For Cat's Sake operates with an all-volunteer staff and our most important source of income is through donations. We are a 501(c)(3) non-profit corporation and all monetary and other donations to For Cat's Sake are tax-deductible. Here are several ways you can donate to help the cats.
Order your Pet Food at Chewy.com and For Cat's Sake will get a $20 donation!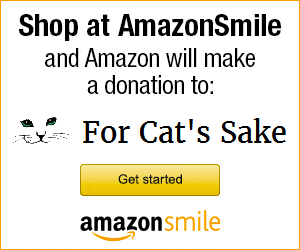 You can also help us by:
Going to www.iGive.com/FCSRA and earning money for For Cat's Sake every time you shop.
Sponsor-A-Pet through Petfinder.
Monetary Donations
Monetary donations are always welcomed and appreciated. Here are some examples of what your gift can give the cats and kittens in our rescue.
$7 – $15 Mothers milk replacement for an orphaned kitten or 1 to 3 vaccinations for cats and kittens. Rabies Vaccine.




$20 – $30 Medication for a sick cat or kitten. Feline Leukemia Test.

$35 – $50 – Cat food for the fosters.


$55 – $100 A vet exam or required x-ray or blood work for a sick cat or kitten




$65 – $85 Neuter or Spay surgery




$100 – $150 Spay surgery with complications or a combination of the above

$150 and above – Internal Hernia surgery, Eye Surgery, UTI blockage surgery, Broken limb repair…and many more
Please send your tax-deductible donations to:
For Cat's Sake
Cat & Kitten Adoption
PO Box 341246
West Milwaukee, WI 53234
Examples of items that For Cat's Sake is in need of:
Clean bath towels (new or gently used)
Kitten and cat food (premium dry or canned)
Scratching posts and cat toys
Gift Cards: Pet Supplies Plus; PETCO; Office Max; Office Depot
If you have any ideas to assist us with fund raising events, please contact us.