By Kali and Marley May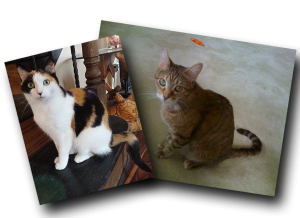 Hi my name is Marley May (aka Marlena). I'm on the right in the picture above.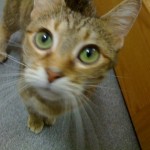 I want to tell you about my journey & life now with my sister Kali (on the left), mom, dad and two brothers – Vinny and Spatzy.
I had been living in a glass case at a pet supply store that helped For Cat's Sake. I don't know why they gave me up because with my big green eyes and loving heart, well, how could you, right?
Anyway, I found myself there with a couple other cats that were looking for someone to love them too.
I was there for a little over a month living in a glass cage. I was so afraid. I was tiny even though I was about six years old, they told me.
I watched people come and play with the other cats, but no one wanted me because I had weepy eyes sometimes due to allergies to chicken and I didn't "meow". I could only say "Meh" over & over. I tried so hard, but I have very short vocal cords because of my breed. I am a reddish/brown tabby Ocicat.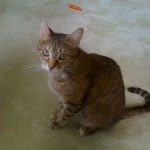 I was very sad, lonely and didn't think I would ever be loved again, until one day my new mom & dad came into the store to buy some food and litter for their two other boys Vinny and Spatzy (my future brothers).
Mom and dad had never been to this store before and were not looking to add to their family, but when they walked around and found us there in the adoption area where we were kept. Mom came over to my glass house and wanted to know if they could take me out to the play room area so she could see me.
The wonderful lady named Tammy that worked there came over to get me out and we all went into the room. I didn't know what was going on because no one ever played with me except Tammy and the ladies from For Cat's Sake that came every day to feed us & clean our boxes.
Mom was holding and talking to me. Then she turned to (dad) and said how much she loved me and my little "Meh". I hadn't really seen dad at first but when mom turned enough for me to look over her shoulder, that's all it took and well… we were done in!
I fell instantly in love with my daddy-to-be, and he with me. Don't get me wrong, I love my mom too, but I'm definitely a daddy's girl.
Mom & dad were so happy and told Tammy that they wanted to adopt me and… what did they have to do? Tammy explained the adoption process and it all started moving forward. They put me back into my glass cage – I didn't understand why because hadn't we fallen in love, I thought?
Mom and dad told me that they would be back for me and not to worry. They had to wait for the background screening, which is a really great thing for my safety. I wouldn't want to go to someone who was not kind, loving and would hurt, neglect me or give me away again.
Mom and dad came by every day to see me and then, when they were told when they could pick me up, I found out that mom had also asked them to adopt my now sister Kali that they had seen on the For Cat's Sake website.
I found out that Mom and dad like things to be even and fair. They already had two boys (Vinny and Spatzy) and they wanted to have two girls to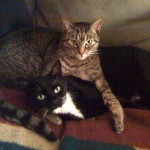 be equal. They didn't want me to feel alone or scared being the only girl and coming into a new home by myself, so they had arranged to see my future sister Kali. She was brought to the store to meet mom and dad and together we were both brought to our new home that same night.
My life now is full of love, snugs, and laying on the big cat tree in front of the bay window in the sun and watching the world go by… oh and good food of course. Dad says I am a very happy girl! I am very athletic and, despite my larger frame than when I first was adopted, I am the quickest one in the house. I love chasing my colorful springs all over the floor – until they go under the furniture and I have to ask for help.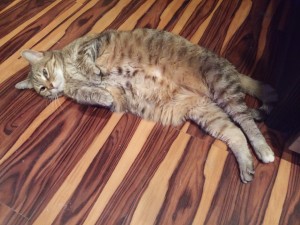 I also love acting! I am the drama queen of the family. When mom and dad are eating dinner at the table I love to lay on the floor and roll around with one paw at my head as to say that "I am starving" or I will crouch down where our food bowls go and stare at the floor, then look up at them to see if they are looking… maybe some day they will get the hint but, until then, they just keep laughing and saying "you know you get fed after dinner and not before". Don't they know cats are royalty???
(I will now let Kali tell you her story)…


Hi my name is Kali.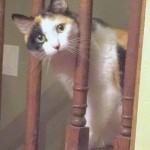 I am a very soft Calico little girl and I was thirteen months old when my mom and dad saw a picture of me on the For Cat's Sake website and wanted to meet me. They wanted to give me my forever home with them, my new sister Marley May, and my two new brothers Vinny and Spatzy.
I had been living with one of the foster moms since I was a tiny kitten. My foster mom goes to MADACC all the time to see if there are any new babies big or small that they could foster and help find loving forever homes. This time though MADACC called her to tell her that they had found me walking on a street as a tiny baby all by myself with no one around, not even my own mommy, and could she come there to see me.
My foster mom came to MADACC and brought me to her home where I stayed until my new mom and dad took me to my new forever home.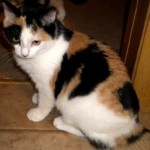 When I met mom and dad at the pet supply store I was very scared and very quiet. Mom tried to hold me but I squirmed and jumped down but did not run away. I am a very good girl, but I was very nervous.
My foster mom explained to them that I didn't like to be held and that even though I was friendly and would greet the other new cats that would arrive at the foster house, I was very shy and quiet. My future mom didn't know how my foster mom could give me away. My foster mom said that there are so many kitties that need loving forever homes that she and the foster people have to do it, no matter how hard it is, to be able to make room for new kitties. If you'd like to help out and provide a Foster home to some of my friends, please click here.
Mom said that she thought I was very sweet and that with lots of love, patience, and security she felt I would come around and maybe one day would love to be held, hugged and be a full part of the family (and she was right!)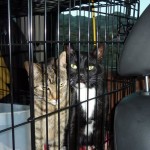 Vinny told Marley May and I their story (his and Spatzy, they are really brothers) living with mom and dad, moving from California to Wisconsin and the long trip in the car…
It took some time, but now I am a happy, (softly) talkative, inquisitive and playful little girl who knows 100% that her mom and dad love her! They show me every day with love, kindness, talk to me, play with me, teach me things, and always call me to be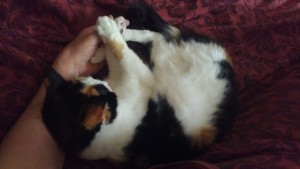 with the family group at night, when I may be upstairs looking out the window at the trees and nature. We all watch shows in the family room and we make dinner together (okay, they make dinner and we wait for our bowls of goodies) but we are all together. I also love to help mom and dad get ready for work in the mornings and mom has made up little songs she sings to me. She also has fun little nicknames for us all. Mine is sometimes "Kali Ya Ya" or "Kali girl" or she even just calls me "Ya Ya" or "Ya Ma Ya" and I love them all. Mom is so silly and loves us all.
I now love to be held by my mom and dad, but still o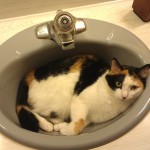 n my terms. I am a little shy when meeting new people but am learning to not be afraid, just watchful… I love to give kisses, snug mom in her neck and purr. I pretend swim in the empty bathtub and sink, and sing myself, and drink from the bathroom faucet while mom and dad get ready for work… they need my help of course.
Mom and dad learned that with love, patience and giving me some one-on-one snug time with them when we all go to bed, helped me feel special. I snug up between mom and dad on the bed while they talk to me, rub my cheeks and tell me what a wonderful girl I am and how wonderful it is to be loved by me. Then, when I'm ready to go to bed, I jump down and wait patiently for them to open the door so I can go sleep in my own soft bed. My other siblings want to sleep with mom and dad, and walk all over them and keep them awake so they can't sleep but, as I said, "I am a good girl".

(From both Marley and Kali):

We have lived with mom, dad, Vinny and Spatzy now since September 2011 and are happy, healthy and very loved little girls. We had a long and sometimes scary journey before we came to our loving forever home, but now we know our life is great, safe, and secure. We will always be loved!!
Mom and dad are great, our brothers Vinny and Spatzy are good too (most times, but then they are boys) and we are growing up!!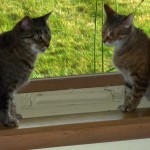 We had a little bit of a hard time adjusting when we first got to our new home (Kali was about three years younger than her siblings and Marley May was the same age as the boys). Vinny took us under his wing and tried to show us the ropes like where the toys were, the litter box, and where our food was every day… you know – the basics.
Mom and dad are so happy for all the work that For Cat's Sake does that dad is now the website "webmaster" – he volunteered back when we were adopted – and continues to help get the word out with updates to the website to make adoption for other kitties easier. Mom and dad tell everyone all about For Cat's Sake and have had friends start to foster, and adopt, and look for kitties to love on the website.
Please consider giving a lonely kitty (or two – Love is always better in pairs) a loving forever home, or become a foster parent/family for some of our distant cousins. Please also think about helping For Cat's Sake help needy kitties.
Thank you For Cat's Sake for saving us and helping us find our forever mom, Shelley, and daddy Andy!! (Mom says we have to also include a thank you from our brothers Vinny & Spatzy too!)